Windows desktop refers to the main screen area users see after opening and logging in to OS. Just like the actual desktop we use in our daily life, the PC/laptop desktop will also have lots of things saved on it. It can actually be regarded as a platform for work.
Whenever you open a program or folder, it will appear on the desktop. You also have the right to put some items (such as files and folders) on the desktop and arrange them by the way you like. Sometimes, the items on Windows desktop may get lost. You need to start desktop data recovery as soon as you realize the problem.
Start Desktop Data Recovery ASAP
What Can You See on Your Desktop
Common items you can see on a Windows desktop:
Desktop icon: each icon stands for a specific program. If you double click an icon, the corresponding program will be running. Common icons include "Computer", "Network", "Recycle Bin", "Documents" and "Internet Explorer".
Shortcut: users are allowed to create an icon for their frequently used programs on the desktop. This kind of icon is called a shortcut. In this way, they are able to open the specific program by double-clicking the shortcut.
Files and folders: you can put your files and folders that are used frequently to the desktop. In this way, you can open them easily and quickly. Yet, there are some cases in which the desktop data are lost.
Taskbar: as we have said before, the taskbar is the long strip located at the bottom of the screen and currently running programs are displayed here. If the taskbar is unlocked, users are able to change its location and size by dragging it to any one of the four sides of the screen and moving the mouse cursor to the border. (how to fix when Windows 10 taskbar not working?)
Active window: in Windows, most of the documents are opened in the form of a window. Those windows have some menu items in common, such as New, Open, Save, Save As, Print and Quit, which are used to implement basic functions.
Desktop icons, shortcuts, taskbar, and active windows are easy to restore after get lost from the desktop. Yet, it's relatively troublesome to recover desktop files.
How to Recover Files Disappeared from Desktop Windows 10
Three main reasons why your desktop data get lost:
How to recover desktop files in Windows 10:
Get reliable laptop recovery software.
Install the software properly and launch it to start desktop data recovery
Keep This PC selected in the left panel.
Choose the drive that contains your desktop data (usually C).
Click on the Scan button to detecting lost desktop files and folders.
Browse the scan result to see whether it includes the data you need.
Choose all the files and folders you want to recover.
Click on the Save button in the lower right corner.
Choose a location to store the recovered files and folder.
Click on the OK button to confirm.
Wait for the operations to complete.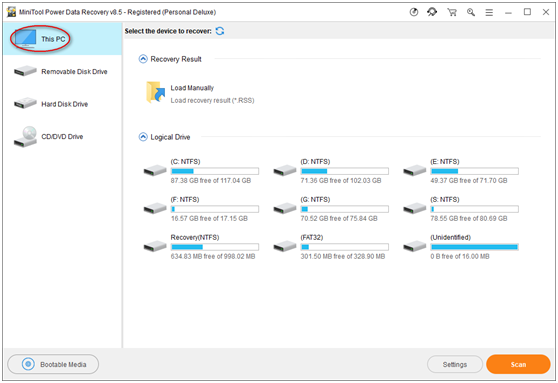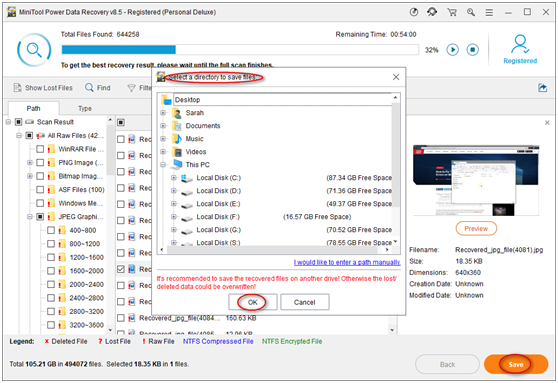 That's how do I recover permanently deleted files from my desktop. Please try the steps yourself if you also need to finish desktop data recovery.